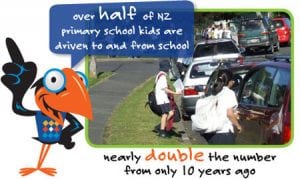 We are a Travelwise School! Travelwise is a programme in Auckland that encourages children to walk or bike to school or use public transport.
The reasons are that 38% of all peak hour traffic is school related and this is causing pollution and congestion on our city roads. Every day Auckland vehicles release 820 tonnes of Carbon Dioxide in the air. If we can reduce this it will make it better for everyone!
At our school we have student reps from each class who work together to plan events and activities. Recently 6 senior students attended a Workshop to build strong leadership for Travelwise programmes.
Our focus this term and for Term 2 is around Safety when crossing the road. Please take care to use the Traffic Crossing at the lights when crossing Wellington St.
Please find HERE the Time-zone map done for the Travelwise group.