Enrolment of Students who live in zone
The school zone website gives you information about school zones for New Zealand schools. You can search by your home address and see which schools you are eligible to enrol at. 

Check on the map below to see if you are living in Freemans Bay School zone.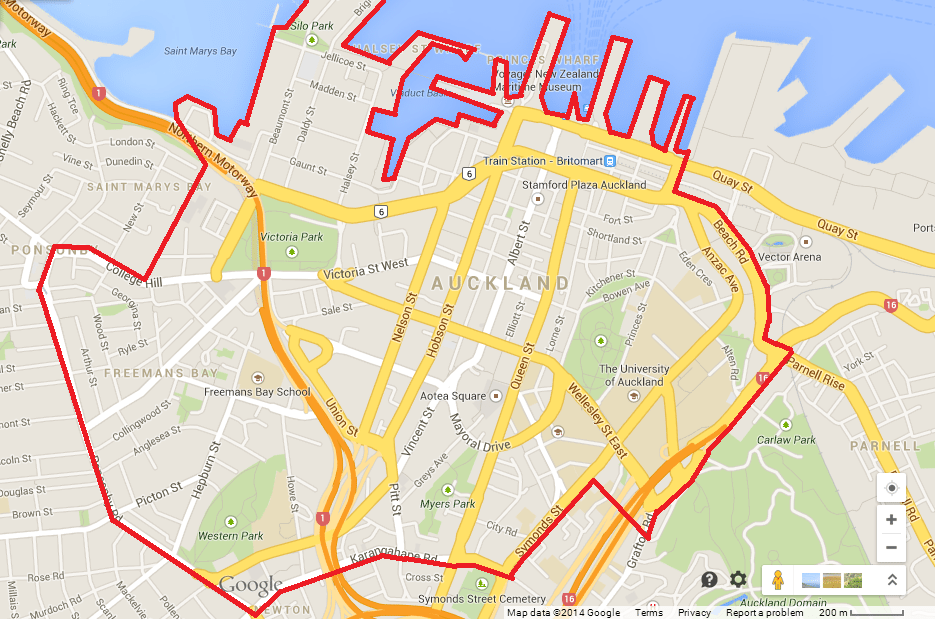 The Freemans  Bay School Zone is:
Starting at the boat ramp at the eastern end of Westhaven Drive follow the coastline north and east around the wharf area to include Marsden wharf. Cross Quay Street and travel south down the centre of Britomart Place. Turn left and travel along the centre of Beach Road. Turn south into Anzac Avenue, south east into Constitution Hill, continue into Parnell Rise at the intersection with Beach Road. Turn south west into Stanley Street along Grafton Road (excluded), north west over Wellesley Street bridge and south into Symonds Street (76 and below, 119 and below included). Turn west down the centre of Karangahape Road, northwest down the centre of Ponsonby Road and east into College Hill. Travel down the centre of College Hill to New Street (excluded) then continue along both sides of College Hill to Beaumont Street, turn north as far as Westhaven Drive and back to the starting point.
All residential addresses on included sides of boundary roads and all no exit roads off included sides of boundary roads are included in the zone, unless otherwise stated.
Please note that we do not accept enrolments from overseas students who are staying in New Zealand briefly or visiting New Zealand on holiday.
Out of zone enrolments
The enrolment of out of zone students is governed by the provisions of the Education Act 1989.
Each year the Board of Trustees will determine the number of places which are likely to be available in the following year for the enrolment of students who live outside the home zone. (The Board may also do this term by term if it wishes.) The Board will publish this information by notice in a daily or community newspaper circulating in the area served by the school. The notice will indicate how applications are to be made and will specify a date by which all applications must be received.
Applications for enrolments will be processed in the following order of priority:
First Priority will be given to students who have been accepted for enrolment in the Special Programme run by the school and approved by the Secretary for Education.
Second Priority will be given to applicants who are siblings of current students. Proof of sibling relationship is required.
Third Priority will be given to applicants who are siblings of former students. Proof of sibling relationship is required.
Fourth Priority will be given to applicants who are children of board employees
Fifth Priority will be given to all other applicants.
If there are more applicants in the second, third, fourth or fifth priority groups than there are places available, selection within the priority group will be by a ballot conducted in accordance with instructions by the Secretary under Section 11G(1) of the Education Act 1989.
Special Programme Enrolment
Whānau Ata is the school's Immersion Unit. The unit is based on the principles of Kaupapa Maori which recognises, values and validates Te Reo me Ona Tikanga Maori. Our school is fortunate to be able to provide Maori Education to those Whānau who wish to use this facility. We currently have three immersion classes where we deliver over eighty percent of the curriculum in Maori.
The criteria for enrolment in Whānau Ata is 3 years at a Kohanga Reo, or enrolment at another Kura Kaupapa or Immersion Unit.
The Board of Trustees has determined that the capacity of Whānau Ata is 54 students.